Monday, March 19, 2007
Tokyo Sexwale - high flier (wek in progress)
Mosima Gabriel (Tokyo) Sexwale is living proof of the South African dream.
Trained as a freedom fighter by the Soviet Army he has used his Russian contacts to parlay his business in South Africa into a R1.5billion consortium Mvelephanda Holdings - in only seven years. His empire spans gold, platinum and diamonds on two continents. There is no doubt that the assets were acquired at favourable rates, for Sexwale is a top negotiator and sharp businessman, but there were no government handouts.
He famously once looked at the staff ratio at the head office of Mvela Resources and told his CEO, a white man, that there were too many black staff. "Go and find a white man and employ him, I want diversity in my companies," he said.
http://www.somalilandtimes.net/sl/2005/233/028.shtml
Tokyo, who earned his nickname from his interest in karate, was
born born 5 March 1953 ???
In 1977 he was arrested on conspiracy to commit terrorism and sentenced to 15 years on Robben Island. It was there he met his wife, Judy
Mvelephanda. 36% of the company is owned by trusts representing 1,000 former political prisoners, 60,000 former ANC guerilla fighters and their families, impoverished miners and welfare charities.
The remaining equity is owned by Sexwale (35%), management and directors (25%) and an unnamed individual (4%) whose identity has been kept secret. http://www.thisismoney.co.uk/investing-and-markets/article.html?in_article_id=402640&in_page_id=3

"If blacks get hurt, I get hurt. If whites get hurt, that's my wife, and if you harm coloured people, you're looking for my children. Your unity embodies who I am."
BELIEVING IN A JET PLANE
Among the best known is Tokyo Sexwale, the former premier of Gauteng province, now reportedly a billionaire who has acquired three aircraft, including a Lear Jet he bought for his wife on Valentine's Day. Last year alone, black empowerment deals helped create nea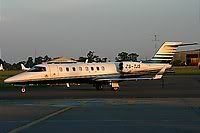 rly 6,000 millionaires. (August 20, 2006)
San Francisco Chrnoicle
SHADOW OF RAGE
Despite high hopes, South Africa has failed to create a racially blind society
http://www.sfgate.com/cgi-bin/article.cgi?file=/chronicle/archive/2006/08/20/INGBNKFV2828.DTL
IT SICKENS ME to the pit of my soul when I know that Tokyo Sexwale has 5 Lear Jets , although he swore in 1996 that he'll (as ex-Premier of Gauteng) build 1 million houses!
Knorrig, resident drooling racist on SA Sucks
But no one seems to be able to prove the existence of more than on LearJet in the Sexwale family - the one Tokyo bought for his wife Judy as a Valentine's gift. Knorrig does provide evidence of a Bombardier jet being owned by Sexwale. A two jet family. Hmmm. Let's see if he can find the other three, with some solid evidence.
Comments:
So do you believe me now? Knorrig hasn't given you anything on the lear jets. I told you this guy was tight. Those scared little guys on SA sucks will never accept that a Nigger can be this successful. You can just feel the jealousy ooze from their pores. Oh NO NOT ONE THAT ACTUALLY WORKS. Give it up Noiks. Really. You have better things to do with your time.
Post a Comment
<< Home